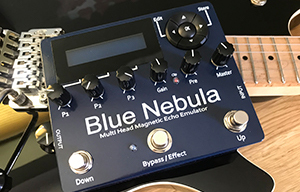 Blue Nebula Echo
The Blue Nebula Echo pedal is the result of many years of research to re-create the echo sounds produced by a number vintage tape and drum echo machines of the past. As many of these vintage echo machines are no longer available a need for a smaller and much lighter alternative which is also pedalboard friendly is the answer to faithfully reproducing the unique and authentic sound of the magnetic tape head echo.
It all starts at the input and the heart of the analogue audio path, developed with a four stage discrete JFET triode emulator the pre-amp accurately re-creates the harmonic content and tone of the valve pre-amp stage used in the Echomatic 2 vintage echo unit. The analogue preamp has full control over the preamp gain and level allowing the settings to be altered over a wide range allowing you to obtain the exact sound required. The Blue Nebula Multihead tape echo Emulations include Meazzi Echomatic Models, RE301, PA306, Copicat Models, Binson B2 and Echoplex models among others.
The Blue Nebula Multihead tape echo has 50 pre-programed patches already saved in the preset memory that are easily accessed. There is also 128 'User Patches' to save your own customisable patches.
This pedal requires a 12V DC 200mA centre Positive power supply (Included).
Specifications
Controls: Gain, Pre, Master, Param1, Param2, Param3.
Power: 12 Volt regulated DC adapter(Center POSITIVE)
Size: 120(W)x145(D)x80(H)mm
Weight: 575g
Current Draw: 200mA minimum
Video 1 demo coming soon.

Video 2 demo coming soon.

Video 3 demo coming soon.